Main content starts here, tab to start navigating
The Lazy Oyster is Miami's first traveling oyster bar. What started in 2020 as an oyster delivery service has evolved into a full raw bar catering service and pop-up experience.
Why stay lazy?
Our oyster menu rotates weekly, featuring both variety and quality you can expect at a restaurant in the comfort of your own home (or at one of our pop-ups around Miami). We deliver weekly from Wednesday to Sunday and each oyster is shucked to order.
The Lazy Oyster loves to shuck anywhere. Order delivery, check us out at our latest pop-up location across Miami, and book us to cater your next celebration. We do the work, so that you can stay lazy.



Meet The Shuckers.
Alexander Gilardi and Brandon Mesa are the team behind The Lazy Oyster because they love to shuck.
Alex has 10+ years working in the hospitality industry and Brandon comes from a hospitality background. We both have a passion for service. Are you ever sad while eating an oyster? Of course not. Oysters are enjoyed when you're celebrating, the act of enjoying them means something special. When you have oysters, it's because you're about to have a good day or night. This is why we love shucking oysters for you. Oysters are the start of something great, and we want to be a part of your great days.
FAVE OYSTERS: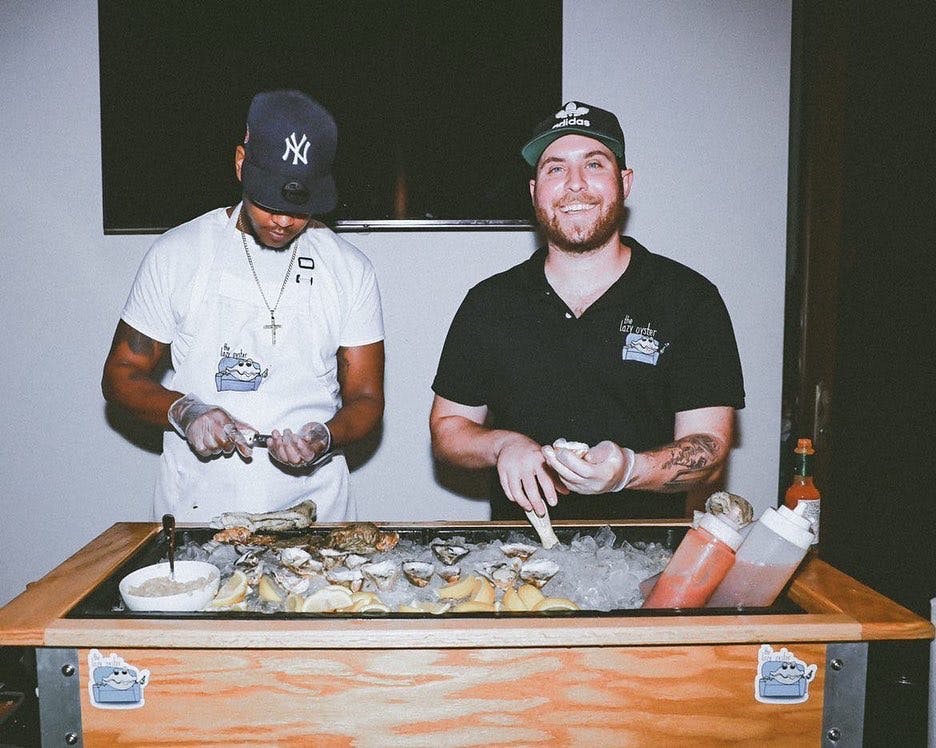 Alex: Glacier bay from New Brunswick. It's crisp, light, and tastes as if champagne and oysters had a baby. This one leaves you wanting 1000 more.
Brandon: It's tough to pick between my children. I love all of them, but Kusshi would be my favorite. It comes from the Japanese word for ultimate, and it is my ultimate pleasure to shuck our most consistent oyster.